Resident Evil Umbrella Corps Trailer Reveals Code Veronica Map And Mutated Zombies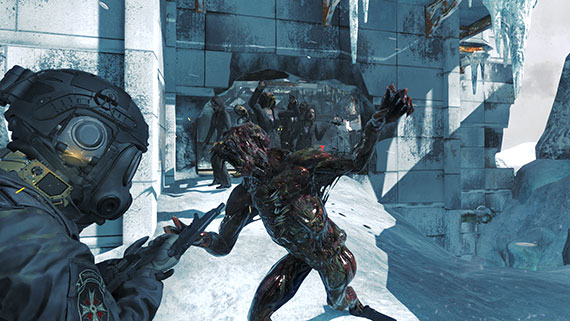 Capcom has released a new gameplay trailer for its upcoming Resident Evil spin-off shooter Umbrella Corps, showing off a new map inspired by the frozen base from Resident Evil Code: Veronica. The new third-person multiplayer shooter is a significant departure from the franchise's trademark Resident Evil formula, opting for team-based action rather than survival-based horror.
Take a closer look at the Antarctic Base map from Umbrella Corps in the new trailer below. This video sets the stage for the map's place in Resident Evil history with an intro using Resident Evil: Code Veronica storyline footage (as seen in Resident Evil: Darkside Chronicles). You can also see on the trailer some brutal Brainer battles and locations that you might remember from Code Veronica.
The trailer also showcases the Talonhawk, a close-quarters weapon that players can use to stab an enemy in the brain, the Wolfsbane pistol and a few custom weapon colors and designs made using the game's gear customiZation options. Players can even paint their Wolfsbane gold to match the handgun used by the late Steve Burnside in Code Veronica.
It also shows off the game's "Mutated Zombies", a particularly nasty enemy that appears in the Multi-Mission Mode's SP DNA Hunter rule set that are harder to defeat. In addition to dealing heavy damage and being able to take a good beating, these blood-thirsty zombies are also unaffected by the Zombie Jammer and can render it temporarily ineffective against other enemies near the player.
The game is set in 2015, two years after the events of Resident Evil 6 and twelve years after the collapse of the Umbrella Corporation in 2003. Although the Umbrella Corporation has been disbanded, a great deal of valuable viral BOW research information leftover from their past evil endeavours is still waiting to be discovered.
"The nefarious legacy of Umbrella stretches back many decades, including the construction of a facility built in Antarctica in 1969. Flash forward to 1998, Umbrella's Antarctic base suffers a full-blown t-virus outbreak and is permanently put out of commission by the actions of Claire and Chris Redfield. Though the facility was devastated by its self-destruct system, its snowy, multi-leveled carcass makes for a terrific battleground in the heated third-person shootouts of Umbrella Corps," Capcom said in a blog post.

Umbrella Corps is set to launch on June 21, 2016 for PC and PS4 and it will costs $30 (£21). Personally, Resident Evil is one of my favorite video game franchise, but I'm not much into the spin-off games of Resident Evil, with the exception of the Revelation series. I've tried playing Resident Evil: Operation Raccoon City before, but I felt disappointed on that game due to its lack of quality. For Umbrella Corps, I just don't feel any hyped to it. Also, Star Ocean: Integrity and Faithlessness is set to release 7 days after the the release of Umbrella Corps, so I might pass on Umbrella Corps for the meantime. How about you guys, will you be playing this game?
Related Game(s): Resident Evil games
4/21/2016 9:56:44 PM Drew Constantino
Put this on your webpage or blog:

Email this to a friend

Follow PSX Extreme on Twitter


---