Uncharted 4 Has Been Mistakenly Delivered Early In The UK, Beware For Spoilers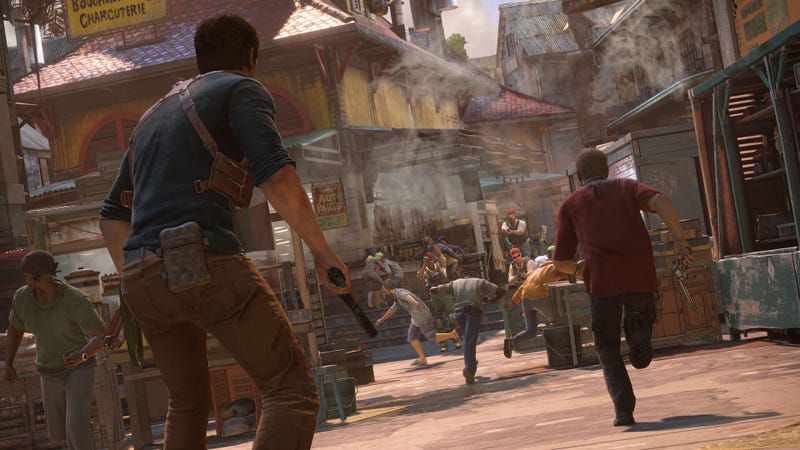 Uncharted 4 won't be out for another two weeks, but retailers across the world have somehow lost track of that, as Uncharted 4 is already in the hands of some consumers with retailers selling the game two weeks ahead of its official release date leading to widespread chaos and pandemonium. Reports of the game's street date being broken first emerged overnight after customers claimed to have received dispatch emails from Amazon. Separate reports on PCGames.de and ThisGenGaming.com suggest that copies may have already been dispatched to some customers from Amazon Germany and Amazon US, with in-hand copies also appearing on eBay.

In fact, one lucky guy from the UK has already bought the game. VideoGamer has spoken to that guy named Shabz, who has been into one UK-based CEX and has been able to purchase a physical copy of the game. Shabz told Videogamer: "I went in to CEX... to actually buy myself a camera lens and when I went to the counter to purchase the lens I saw behind the shop assistant that there was Uncharted 4 so as a try I said can I also get a copy of Uncharted 4, he just picked it up and rang it through the till. The game cost £55." Shabz also stated that he's already played the game's first two chapters, and that the single-player campaign "is so far running fine". "May have a few frame drops but not so noticeable," he said, adding that "at heavy firefight it wasn't too bad with framerates".
Multiplayer isn't yet playable, however, he added, with the option currently "greyed out" on the main menu. Trophies aren't yet synching to Sony's servers either, nor is the trophy list currently visible in the trophies menu. The DLC code included with the Day One Edition, which includes bonus multiplayer DLC, doesn't yet work either, Shabz says.
You can see the photos below for the copy of the game and receipt that Shabz has bought.
I can't blame those retailers who have mistakenly sold the game early, considering that Uncharted 4 is such a big game and the release date of the game has been delayed a couple of times by Naughty Dog. If there are people who have already bought the game, then it is highly possible that they might post some spoilers of the game online. It might be wise for us to stay away from the internet in the meantime with regard to Uncharted 4, likewise the Uncharted 4 director, Neil Druckmann, urges fans to stay vigilant when it comes to spoilers on the internet.
Well, that guy Shabz is sure lucky to have the Unchared 4 game on his hands right now. But I'm not feeling jealous because I'm still enjoying myself in playing Ratchet and Clank. Plus I'll be getting Tales from the Borderlands within the week, so I'll be busy playing those games until Uncharted 4 arrives on May 10. I just hope that those people who have already bought Uncharted 4 will be considerable enough on not posting some spoilers of the game on the internet. Any thoughts guys?
Related Game(s): Uncharted 4 A Thief's End
4/26/2016 10:56:21 PM Drew Constantino
Put this on your webpage or blog:

Email this to a friend

Follow PSX Extreme on Twitter


---