Ubisoft: Watch Dogs 2 Will Have a "New Tone"
During an earnings call, Ubisoft CEO Yves Guillemot shared some new details on the upcoming Watch Dogs sequel. First, the executive teased that Watch Dogs 2 will have a "new tone," though he didn't expand on that point. In addition, Guillemot said Watch Dogs 2 will have "innovative" gameplay, but again, he did not share any further specifics on this front.
"Our biggest title will be Watch Dogs, which will build on the success of the first game. It has been one of Ubisoft's best selling games of all times. The game will once again surprise players with a new tone and innovative hacking gameplay possibilities", CEO Yves Guillemot said.
Although the official name hasn't been confirmed, Ubisoft did refer to it as Watch Dogs 2 during their earnings call.
In other Ubisoft news, it was revealed that their unannounced new AAA IP will be featured at E3 2016, with an unveiling potentially happening before their press conference on June 13. E3 will also see Ubisoft announcing "lots of dates" for their upcoming games, which also include For Honor, Ghost Recon Wildlands, and South Park: The Fractured But Whole.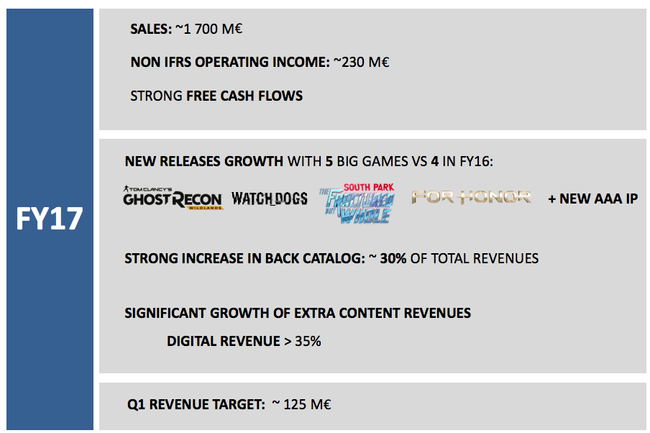 The first Watch Dogs sold more than 9 million copies into retail, and its creative director has been vocal about what he would like to do with the franchise next. Earlier this month, an image appeared of what could be Watch Dogs 2's main character.
Ever since Ubisoft announced that they will be not release a new main entry game on their Assassins Creed series this year, Watch Dogs 2 has become one of my anticipated games for 2016. I'm wondering on what "new tone" will Ubisoft implement on Watch Dogs 2. Will they change the gameplay of the sequel game? I like the gameplay of the first game, and they could just improve more on the control issues for the sequel, especially on the driving part. What do you think guys?
Related Game(s): Watch Dogs
5/14/2016 3:35:01 AM Drew Constantino
Put this on your webpage or blog:

Email this to a friend

Follow PSX Extreme on Twitter


---