Horizon: Zero Dawn Delayed To February 2017, Releases New Trailer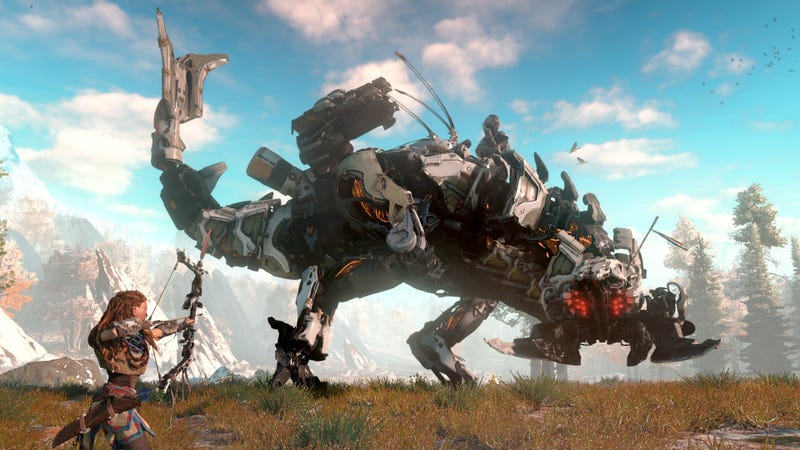 Rumors of a delay for the PS4 exclusive Horizon: Zero Dawn have been kicking around, and it's not a surprise Sony wanted to get it out of the way before E3. Killzone developer Guerrilla Games' next game, Horizon: Zero Dawn, won't make it out this year as previously expected. Sony announced today on the PlayStation Blog that the game is now slated to arrive on February 28, 2017. That represents a delay of a few months — when Guerrilla unveiled Horizon Zero Dawn at E3 2015, the studio said it planned to release the PlayStation 4 exclusive in 2016.
"It wasn't an easy choice to make; we know many of you have been anxious to play the game since we first announced it," Guerrilla managing director Hermen Hulst said. "However, we also want to ensure that Horizon Zero Dawn lives up to the visuals and gameplay quality that our games are known for. The new date affords us the extra time required to deliver fully on our ambitious vision for Horizon Zero Dawn."
Hulst went on to say he knows the delay "may not please everyone," but stressed that it's in the best interest of the game.
"We're confident that the advantages of the additional development time afforded by the new date will become clear in the coming months. We really, really appreciate your patience and continued support, and look forward to bringing you the best game we possibly can in February 2017."
To ease the pain a little, there's a new trailer released that is focused on the game's hero, Aloy. You can watch the trailer below. The game was expected to release this year, although no specific dates were announced.
Announced at E3 2015, the ambitious-sounding Horizon Zero Dawn has a full day/night cycle and players will get to explore forests, mountains, and "atmospheric ruins of a bygone civilization." There are also robot dinosaurs; the one in the poster is apparently called "Thunderjaw." Sony has also said Aloy was inspired by female leads in franchises such as Terminator and Game of Thrones.
I'm fine with the delay of Horizon: Zero Dawn. It only means that the game needs more time to cook, simple as that. On the bright side, this timing change should give PS4 owners something fun to look forward to for early next year. What do you think guys?
Related Game(s): Horizon Zero Dawn
6/6/2016 10:25:03 PM Drew Constantino
Put this on your webpage or blog:

Email this to a friend

Follow PSX Extreme on Twitter


---