God Of War Developer Explains Why Kratos Is In Norse Mythology Now
It was during this year's Electronic Entertainment Expo event that Sony and Santa Monica Studio introduced a new "God of War" video game sequel for the PlayStation 4 and gaming fans were ecstatic to see the return of the game's main protagonist Kratos into the game along with his son in a new and different environment.
Gamers who have attended the E3 2016 event saw the "God of War" demo and it features an older Kratos along with his son hunting for food in the Norse lands as they encounter new threats along the way. The story for the new "God of War" is set after Kratos climatic battle with Gods of Olympus and the Titans during the events of "God of War 3".
Game director Cory Balrog explained the reasons for the sequel's Norse mythology setting as he revealed that the notion of cultures' mythological belief systems coexisting with one another, but only being "separated" by geography. In Kratos case, he travelled from Greece to Norway, but gamers will not expect to see vikings there due to it being in the pre-migration era. Kratos is at the prehistory point, were monsters and Norse gods walked among the lands, before they became extinct, Gamerant reported.
"A lot of people think Norse, they think viking, but there's really this amazing prehistory--the migration, and then prior to that, the pre-migration era," Barlog explained. "In the viking era, they always talked about, 'The gods have abandoned us.' Thor and Loki and Odin all walked the Earth at one point, but they're not around any more. [The vikings] fight for them, but they're not there. This idea that we're at is saying, 'We're at a prehisory point, where gods did walk the Earth, when monsters were real, before they became extinct."
"It's a fun space to be in because it allows us to paint our own image of Norse mythology as opposed to anyone else's," Barlog said.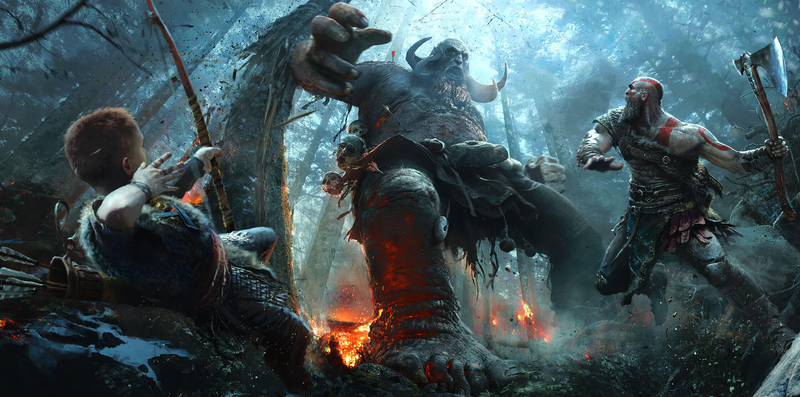 Aside from the Norse mythology settng, Kratos in the new "God of War" will try to be a good father/mentor to his unnamed son as he struggles to be free from his past and fears that his son may inherit his "curse" of being a demigod. Santa Monica revealed that Kratos' son is aware of his father's nature as a haft god, but does not know his history.
Kratos will be accompanied by his son throughout the game as gamers can control his son's actions to come up with better strategies in exploration and in combat. Kratos will wield an enchanted battle axe with ice powers and can be called upon at will. Gamers will face new monsters and gods base from Norse lore.
Sony has not yet announced a release date for "God of War" on the PS4, however, the official website of Amazon revealed the pre-order details of the game at $59.99 with a released date placeholder on Dec. 29, 2017.
I'm fine with the Norse Mythology setting for the new God of War game. I feel that Santa Monica has already maxed out in making stories for the Greek mythology setting in previous God of War games, so it's time to move on to another mythology. How about you guys? Are you fine with the Norse Mythology setting for the new God of War game?
Related Game(s): God of War games
6/22/2016 3:27:38 AM Drew Constantino
Put this on your webpage or blog:

Email this to a friend

Follow PSX Extreme on Twitter


---